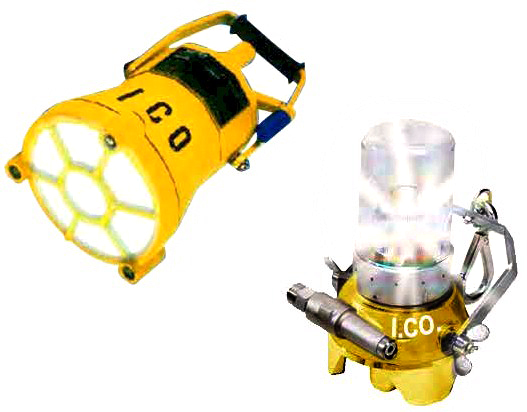 DIRECTIONAL LIGHT LAMP         DIFFUSED LIGHT LAMP
IMPA CODE: 33.06.37
ISSA CODE: 55.115.01
I.CO. CODE: 3110 – W45

IMPA CODE: 33.06.38
ISSA CODE: 55.115.02
I.CO. CODE: 3110 – W44
I.CO. 's pneumatic safety lamp Explosion-Proof (as per EEx pII – T6 regulations – RINA tested)
They can be used in any place where, for security reasons, electrical lamps cannot be used, or where there are no outlets available. The material used for the lamp are spark-proof. A one-way valve prevents dangerous gases from entering the lamp.
The compressed air ensure constant cooling of the lamp and the outer body, avoiding any risk of combustion or explosion.
It's possible to use the lamp in immersion and to perform underwater inspections.
Luminous Flux 6000/9000 lumens 
Brightness 250-300 lux to 10 mt
Weight- 13 Kg